Administrator
Buddy
Bible Challenge
Sep 18, 2020
2,200
1,051
113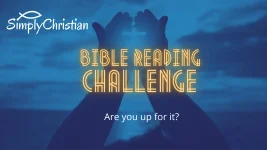 Part of what helped me in my journey out of my former high control religion was deciding to read my Bible like a novel. I started with Matthew 1:1 and read straight through to the end of Revelation with no stopping to look up commentaries etc. It took me on average 30 minutes per day and I was done in 6 weeks (45 days) I kept a dedicated notebook to jot down thoughts, questions, and ideas for later research but stayed on mission to read it through. Wow! what an eye opener. That is why I am promoting this Bible Reading Challenge (BRC)
If you are a member of this site and
send me a note
you'd like to join the Bible Reading Challenge group you will be added to the
private forum
and given access to one of 100 licenses of Dwell purchased for Simply Christian users.
Dwell
is an app that reads the Bible to you. There are a variety of voices and bible versions to choose from. You can listen from your phone, tablet or computer. There are many reading plans available and I made a custom one for the challenge.
The custom one that was made for Simply Christian is to devote ~30 minutes per day to finish the New Testament in 45 days (6 weeks).
There is another plan available via the app where you can devote ~15 minutes per day to finish the New Testament in 90 days (12 weeks).
So drop me a private message if you want to join. The Dwell licenses are available now. There are only 100 so get your license now and get started on the challenge!
Once you are added to the BRC group please consider dropping a note in the BRC (Bible Reading Challenge) group to say hi and which plan you are going to try and to get some encouragement.
Happy Bible Reading!